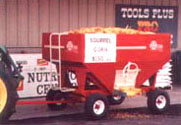 50 Bushel Gravity wagon measures 4' wide, 6'6" long and 57" tall. Built farm tough, just like the big ones.

6' x 10' Jr. Flat Rack has 2" treated floor on 3 x 6 sills and is framed all around in steel with stake pockets. Its low 21" deck height makes loading E-Z. It can haul up to 50 bales and is very useful in orchards and nurseries, for landscaping and displays. Narrower widths are also available for vineyards, and factory in plant use.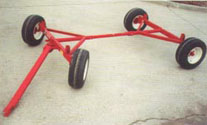 Jr. running gears have a 2 ton capacity and are available in 46" or 60" wheel tread. 5.70-8 tires are standard, shown here with optional 20.5 x 8-10 tires.